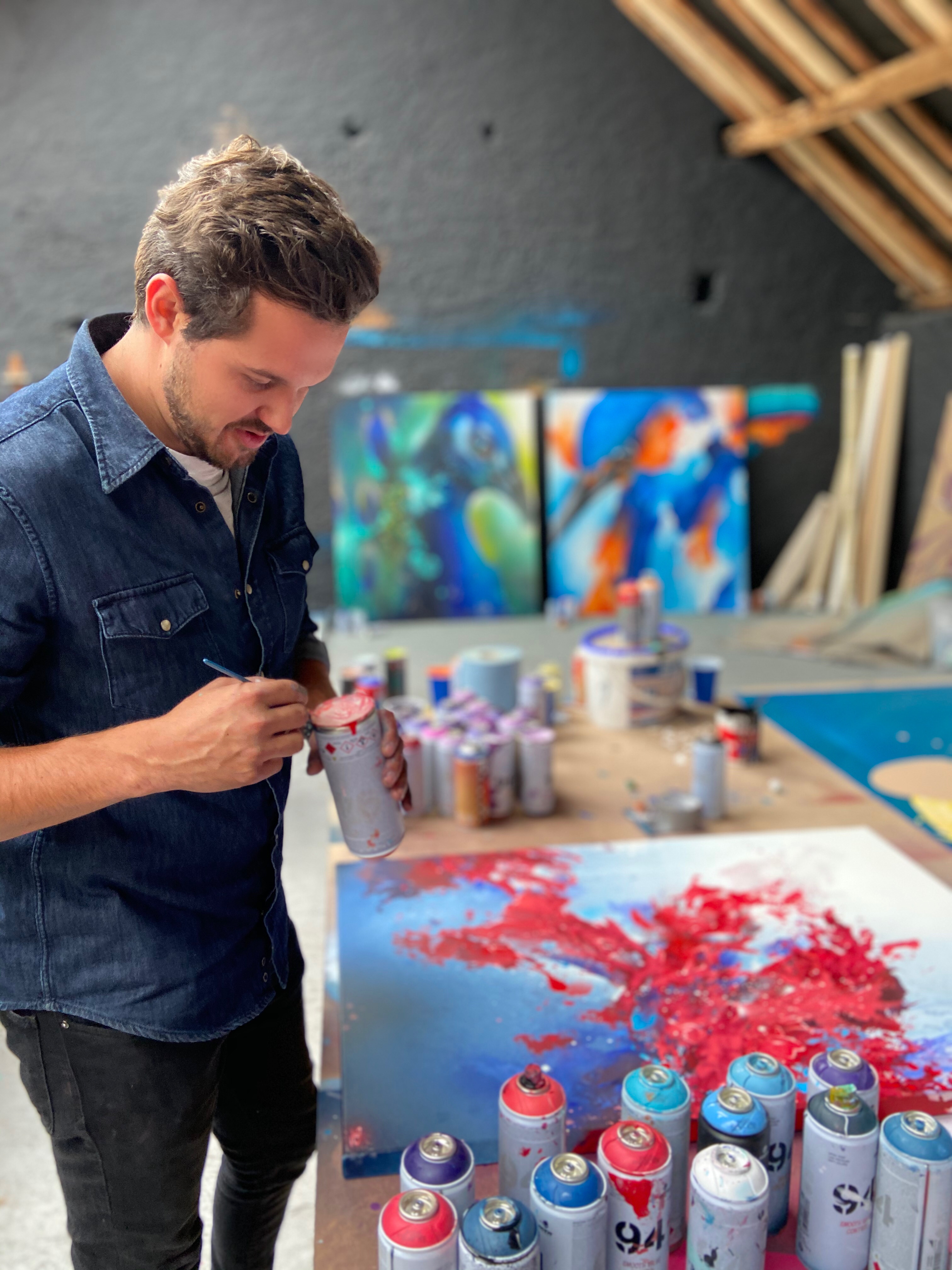 SHORT BIO
Self-taught street artist born in 1995 in Luxembourg. Grown up, always having a brush or a pencil in hand, his fascination with colour, material and forms took a hold already in his early years. Inspired by an exhibition in a small contemporary art gallery in the South of France, he started painting on canvas and got his work to a more professional level. His artistic career started with his first exhibition in 2009 with abstraction and collage. Influenced by Graffiti and Graphic Design and inspired by the magic of details, his style found its way to the kind of urban contemporary art that it is right now. A symbiosis of Graffiti, Lettering, abstract well as photorealistic art in all dimensions.
Over the years, more and more national and international exhibitions and projects followed. All this was more of a hobby besides his engineering studies, until he listened to his heart and fully concentrated on his passion for art in 2015. Meanwhile, you can find his work in the streets and galleries of cities like Paris, London or Berlin.
Not only did Daniel win the Street Art Award Benelux2018, but together with Raphael Gindt, he also created his own Urban Art Gallery and creative space in Esch/Alzette, which impacted the whole art scene of their home country.
                 .                                                                      
Exhibitions (selection)
2018
Lankelz collective Exhibition | Esch-sur-Alzette (L)
Springbreak Urban Art Gallery | Luxexpo TheBOX (L)
Alchemic Body Collective Exhibition | Bogota Colombia
Pop Of Color | Galerie "A Rousen" Pétange (L)
United – Collective exhibition | Gologorski Gallery Krakow (P)
2017
Urban Art Auction | Mantes-la-Jolie (Paris)
David Soner X Daniel Mac Lloyd | 1535° Creative Hub Differdange (L)
Art2Cure – Exposition collective | Galerie de l'indépendance BIL Hollerich (L)
Beautiful Decay – Excxposition collective à Bettembourg (L)
Letz Go Paint _ Exposition collective à Dudelange (L)
UECHT – Exposition collective (93 Artistes) Esch-sur-Alzette
YA Collection – Exposition collective LemoArt Gallery Berlin (GER)
Urban Art – Galerie Spiren in Strassen (L)
2016
AWAKENING – solo show at Peppe Parola's in Luxembourg
Fuel BOX 301 – Groupe exhibition in Strassen (L)
CanCan Exhibition – LemoArt Gallery Berlin (D)
House of Braves – Groupe exhibition in Lorentzweiler (L)
EVBK – Groupe exhibithion of european artists Prüm (D)
Design for CANCAN Limited Edition Art Collection Berlin (D)
Bunch of Keys – Exposition d'art à Mersch (Kulturhaus.lu)
2015
Streetart for inside – solo show Art Connection Gallery Luxembourg
2012
EVBK – Groupe exhibithion of european artists Prüm (D)
Facettes artistiques – Hôtel du Parc Clervaux (L)
2009
Accrochage d'été – Groupe exhibition Boulaide (L)
.
Mural Projects (selection)
2018
Supernova | Luxexpo TheBox
2017
GLOW | Paris (FR)
Jellyfish Tank | Dudelange (L) for Lycée Nic Biever
Deep sea | Kahler (L)
ATM | Berlin (GER)
Like a fish in the sea | Halle/Saale (GER)
Streetart Nonnemilen | Echternach (L)
Lightning strike | L'ouvrage57 in Argancy (FR)
Take Colour | for Street Art Culture in Paris(FR)
Like a fish in the sea | For Kufa's Urban Art Esch (L)
Rise and Shine | Crauthem (L)
No reason to hide | Esch-sur-Alzette (L)
Iguano | Montpellier (FR)
Take Over | for UECHT – Esch-sur-Alzette (L)
Spray the Skatepark | Metz (FR)
Relativity | Montpellier (FR)
2016
Last Splash | Dresden (GER)
Can't stop my glow | Leipzig (GER)
Faster than the speed of light | London (UK) supported by Global Street Art
Protection shield | for AXA assurances Junglinster (L)
Luxembourg city skyline | for Ministry of Housing Luxembourg
Breaking free | for FUEL BOX 301 Strassen (L)
Sprayder | Berlin (GER) Friedrichshain – Kreuzberg
AWAKENING | Peppe Parola's Luxembourg
Full of creativity | Luxembourg city for OLAI and Art Square
Sprayder | Luxembourg city for OLAI and Art Square
Corner Painting | For Jans Group's 25th Anniversary
House of Braves | Lorentzweiler (L)
Saeul (L) | Bar/Restaurant Seller Stuff
Keep it Calmus | with Raphael Gindt in Calmus (L)
2015
Streetart for inside | Art Connection Gallery Luxembourg